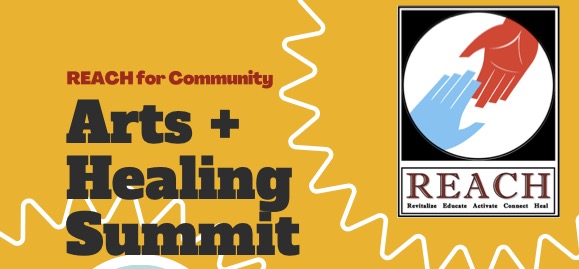 REACH for Community is a new arts advocacy organization in LA County fighting to articulate and advance the field of arts-based social work — starting with the power of the healing arts.
We're putting on the REACH Virtual Arts + Healing Summit on November 7th, co-hosted by our partners at Arts for LA and featuring Julie Baker (Californians for the Arts), Sabra Williams (Creative Acts), Elisabeth Nails (LA County Dept of Arts & Culture), Brent Blair (USC Institute for Theatre & Social Change), Dan Morse (Make School), Yvonne Farrow (City of LA, Dept of Cultural Affairs) and more — and we would love your participation. This summit will bring together local and national leaders for an "in-the-trenches" movement organizing session on the healing arts. We'll hear inspiring updates about ways communities have brought arts-based healing to the forefront of civic life…the places where doctors are literally prescribing the arts, and insurance companies and governments are funding the work! We'll look at what's happening in our region, then spend much of the time hearing from YOU.
This is a grassroots movement, and we need your leadership as we come together on strategies that can change the game for LA County, California and beyond.
REACH for Community
How can we reach a vision of community in such a divided time?
What tools can we use to come together to create social and economic renaissance?
REACH for the arts.
We have a hopeful story to tell.
It is a story of possibility in which we can reach an inspired, connected sense of community using tools we've been taking for granted.
We are passionate about the arts — but not just in the way you might imagine.
Many of us are passionate about the intrinsic value of the arts to illuminate our inner life, bring richness to our communities, to challenge and renew our common humanity…but the focus of this website is to champion the vast instrumental value of the arts.
This is about the myriad ways we use the arts for community service, addressing our most pressing social issues. It is the underappreciated story of artists as social workers — also known as "Cultural Field Workers" — who serve the needs of our communities in countless ways.
These artists work in hospitals, prisons, schools, rehabs, homeless and domestic abuse shelters. They are therapists, urban planners, educators and civic leaders. They are the key to unlocking real results across every sector.
We believe that the arts are desperately underutilized for social impact work — a fact we aim to change with an advocacy framework similar to STEM, which transformed education priorities in the United States and around the world.
In the past few decades, we have seen the STEM disciplines (Science, Technology, Engineering and Math) become a central focus of education policy in the United States. By grouping these fields together with the STEM acronym, advocates were able to simplify their story about a set of educational priorities that would prepare the nation to thrive in a 21st Century economy.
This narrative shift has transformed our educational priorities and led to major investment in workforce development for these fields. Our website aims to create the same kind of narrative shift with the "R.E.A.C.H." advocacy framework — transforming our understanding of the indispensable role the arts must play to create social and economic renaissance in communities across the country.
R.E.A.C.H. stands for the power of the arts to:
Revitalize
Educate
Activate
Connect &
Heal
 …our communities.
We hope you'll take the time to explore the framework below and to follow us on facebook and twitter where you can keep in the loop as things develop. We also encourage you to email :: [email protected] :: if you're inspired to volunteer with us — or if you simply have an individual or organization that exemplifies one of these framework focus areas that you'd like to spotlight. Looking forward to telling this story with you.
"R.E.A.C.H."
The Framework to Unite a Movement
Studies consistently show that the arts make communities safer, healthier and more prosperous – but despite the evidence, arts-based social work is widely ignored and underfunded with social workers' jobs constantly at risk. We're here to change this.
The R.E.A.C.H. acronym is a framework to advance the power of arts-based social work.
We are building a movement around this advocacy framework.
Here's an overview of our five focus areas.
REVITALIZE

⇒ ECONOMIC STIMULUS

Urban Development:
Artists are often the front lines of economic renaissance. A vibrant culture attracts tourism and developers, with benefits for all sectors. Artists in disinvested areas recognize both the power of the arts for urban revitalization, and the responsibility to ensure that the process is accomplished with local community stakeholders, rather than at the expense and displacement of them.

Creative Economy:
1 in 6 jobs in LA comes from the creative economy. This must be recognized and invested in, as seriously as any other sector of the economy. In addition to increased public funding, we envision the development of a permanent funding base for arts & culture: from social enterprises, and other community-oriented business.
EDUCATE

⇒ EMPOWERING EDUCATION

Arts Integration:
If we want to be effective educators, we need get the arts out of a disconnected silo in education. We need our schools to teach science, math, engineering, technology…with the toolbox artists bring to the table. We need to change STEM to STEAM.

Arts integration has been proven to raise academic standards, increasing retention of material, attendance, and enthusiasm for education. As initiatives like Turnaround Arts have proven, the arts dramatically reduce dropout rates and increase student success in any field by developing their creative capacities. It's time to turn the page and support pedagogy that works.

Arts Education:
By investing in the education of the next generation of arts practitioners, we ensure that every other social impact goal of this framework is possible. We also recognize that the arts are invaluable to developing the creativity and confidence crucial to any career our students pursue.
ACTIVATE

⇒ CIVIC ENGAGEMENT

The arts are uniquely effective at fostering dialogue, inspiring collective action and increasing civic responsibility. We aim to create vibrant, creative commons, which provoke democratic participation.
CONNECT

⇒ COMMUNITY BRIDGING

The arts can bond homogenous communities, but they can also purposefully build bridges between diverse communities – religious, ethnic, economic, and beyond. This is the impact of cultural exchange: events that celebrate divergent experiences and help us build safer, more compassionate cities.
HEAL

⇒ ARTS FOR RECOVERY

The arts are proven to be effective for recovery from abuse and trauma, for addiction treatment, to reduce crime and recidivism with diversion and reentry programs, to help dementia patients, autistic youth and for countless other applications. Mental and physical health benefits are myriad and substantial. They must be recognized and utilized.
PUBLIC AWARENESS
Create innovative campaigns — from community events to branded content — that amplify the REACH framework, fundamentally shifting our narrative on the value of the arts.

COMMUNITY ORGANIZING
Unify the movement for arts-based social work and empower the leaders who are doing this work.
ADVOCACY
Create, ampmlify and lead campaigns that increase public support for arts-based social work.